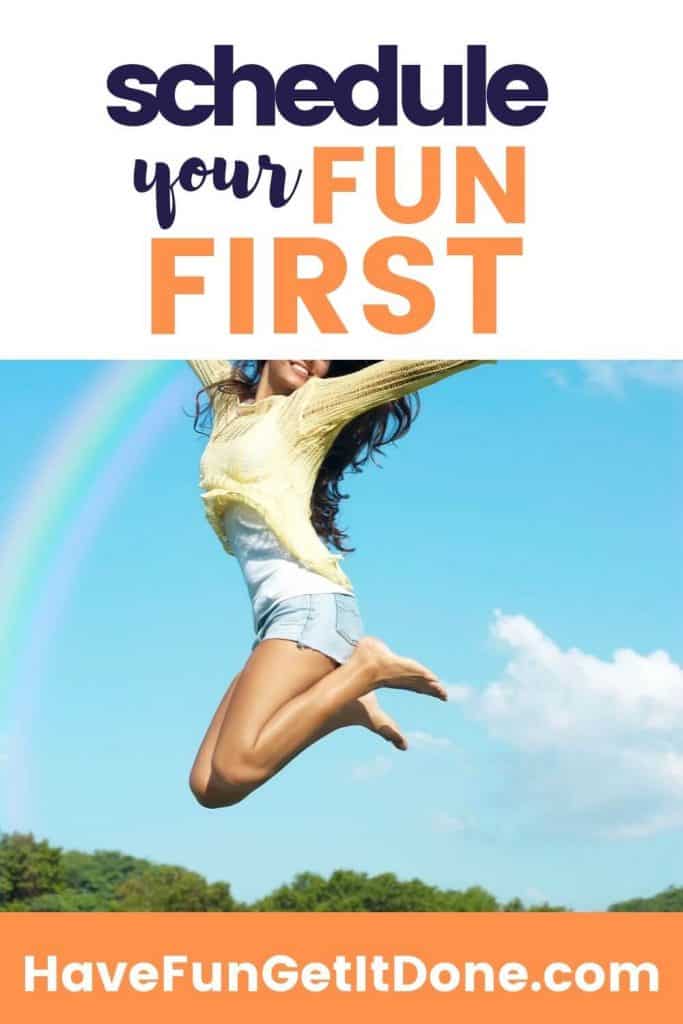 It is Have Fun Get It Done, not Get It Done and if there is any time left have some fun.
While I do promote busting your ass and not living in a fantasy world of doing zero work and just thinking about success and poof you're a millionaire. I also believe enjoying the journey to whatever destination you've set for yourself.

Routines only suck when you make crappy routines
While the idea of routines might not be sexy, it doesn't mean your schedule has to suck. Daily habits are great because it helps automate your life – so you don't have to make a bunch of draining decisions.

Having said that, a lot of us associate routines with being boring, stuffy, and monotonous. It doesn't have to be that way.

I understand that you might not like every single thing you do every day. I get what it is like to go through a phase of having a job I don't like. Taking out the trash is probably never going to be exciting.

Despite that, you can sprinkle regular fun activities into your schedule.

Make a weekly plan sheet and schedule your fun first
In order to be able to see where you can carve out some time for yourself, you're going to want to make a weekly plan sheet.

With a weekly plan sheet, you allocate time blocks in your schedule for work, studying, friend time, family time, yada yada.

Usually, when creating a plan like this our instinct is to fill out our job time blocks first – probably because this takes up the largest portion of time in comparison with all other activities. Instead, I want you to fill in at least one fun thing in your schedule first.

Why do it this way?

By adding your fun first you are committing to it
Not only are you committing to fun, but your getting in the right mindset for the week and the rest of your life. It shifts your perspective, where you start to naturally look for ways to improve what you are currently doing and make it more gratifying.

Let's say you don't like your job right now. That doesn't mean you can't work towards a better job in the future. Of course, cleaning is not fun (at least for most of us), but that doesn't mean you can't blast your radio and have cleaning karaoke to amuse yourself. Just because something currently blows, doesn't mean you have to keep doing it that way.

Even if you only schedule 5 minutes of fun for the entire week at first, just schedule it to show it is a priority
If you can't find 5 minutes in an entire week for fun, you got more problems than I can help you with. And it doesn't have to cost you anything extra.
Maybe you make yourself a cup of coffee, or have a Coke Zero from the fridge, and listen to your favorite music for 5 minutes.

Don't overthink it. You don't need to go bungee jumping every week. Just start with something simple that would make you smile at least once. And little by little try and drizzle more fun in where you can. Before you know it a good chunk of your daily routines will be things you actually look forward to and life will feel a lot different.

Scheduling your fun sounds counterintuitive. It doesn't sound fun to schedule every minute of your day. But that isn't the point – I don't want you to take out the spontaneity out of your life.

Right now we are just giving a visual representation of what is important to us – that is how you should view your schedule. It should not be a bunch of busy work and responding to everyone else's' emergencies. Your schedule is essentially your life and your values and you want your schedule to reflect that. In order to get in the right mindset for that, we start with something fun.

Did you find this useful? Don't keep it a secret. I would love it if you would share it with a friend, colleague or loved one. It is the biggest compliment you can give me.