So, is watching tv a waste of time?
Only if you hate it.
I have studied to get into the tech industry, switched careers to a Web Developer and Salesforce Administrator, gotten significant pay raises and started this blog – all while enjoying tv.
I don't want to brag, but I kinda have to a little bit so you understand that when "super productive" people shake their fists and grumble, "watching tv is a waste of time" or "watching tv is bad for you", it is just their grouchy opinion. I am still productive and reached my goals while watching lots and lots of Parks and Rec.
The positive effects of television are ignored by people who don't value or enjoy tv. And they don't have to. But…
It really annoys me when people say that watching tv is a waste of time.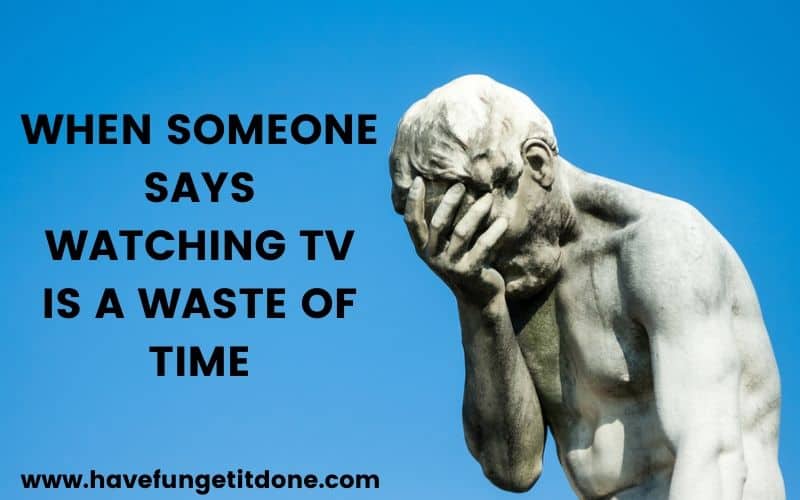 First of all, if you don't like watching tv – cool dude, you don't have to. I happen to love watching shows and going to the movies. I am all about everything comedy, some action, and good sci-fi. In the words of Titus Andromedon "Hashtag, respect my journey!".
"Time you enjoy wasting, is not wasted time" – Marthe Troly-Curtin
What are the positive effects of television?
If you watch it all day and miss work because of it – well then that is a big problem. But if you really enjoy watching a series, and have free time, watch away!
Television helps me reduce stress and unwind, especially if it is a comedy – because who doesn't want more laughter in their life? And don't just take my word for it, the Mayo Clinic says that laughter activates and relieves stress response and soothes tension.
Your free time is based on your values and priorities alone. You can watch t.v. and still be productive, reach big goals, and spend time with your family. It doesn't have to be all or nothing.
In fact, I argue it can make you even more productive. Laughing and letting my mind wander and escape helps me recharge and get ready to focus on work when I really need to.
Anything can be used for good or bad, the good effects of watching television outweigh the negative if used properly.
Learn new life skills.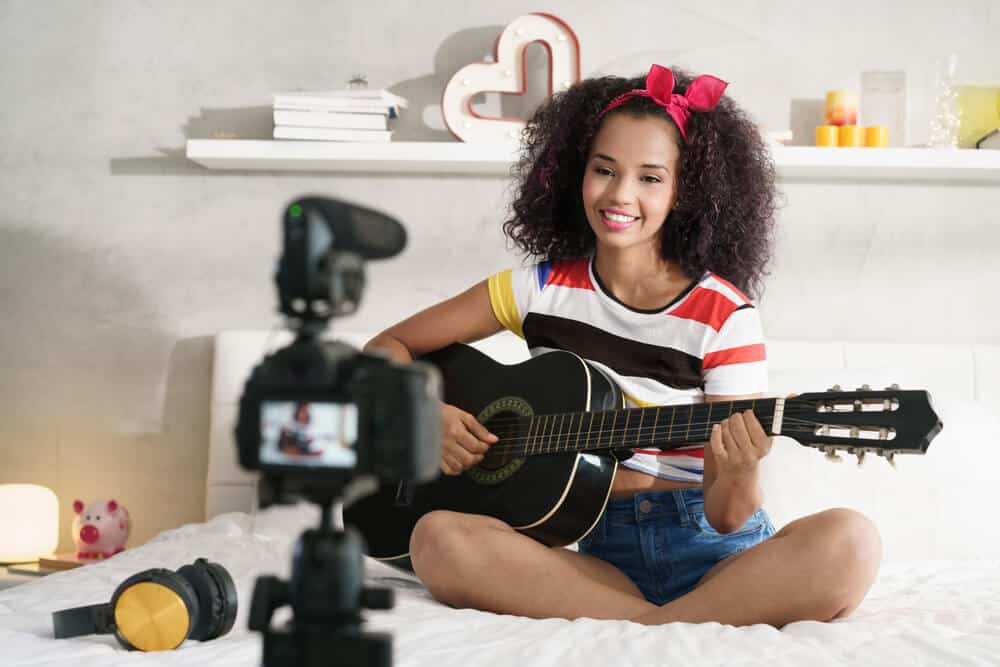 Now that you can watch Youtube on tv there are so many interesting how-to videos. I love watching makeup and hair tutorials, workout and nutrition videos, and home renovation before and afters. I've even watched videos on what I can afford on a mortgage.
You can take a short 10 to 20-minute life skill class for FREE on Youtube. You can learn something new every day and there is a tutorial or hobby out there for just about everyone.
Schedule your fun time first – and watching tv counts.
That's right – schedule your fun time before you schedule anything else.  Otherwise, it likely won't happen. If you love watching tv, make time for it.
When you watch an episode of Parks and Rec to avoid something you are supposed to be doing, you can't enjoy it. Schedule what brings you joy, that way you can look forward to it and completely enjoy it in the present moment. Treat yo' self.
You can read more about how to schedule your fun first and you'll be a pro and having fun and getting it done before you know it.
Give yourself permission to veg out when you need it.
Some days I work so hard and get so much done my brain is fried. It has gotten even worse now that I am a web developer because the job is so technical. After work in order for me to wind down sometimes, I need to watch tv for 30 minutes. I put on a show that is mindless and lets me think about nothing. It helps me be more present with those I love afterward or get my brain ready for more writing or homework.
In order to be highly productive, you don't have to be balls to the wall 24/7. That is why watching tv is good for you – it helps you veg out and relax. If you tend to feel guilty for chilling out because you think you should constantly be working. Stop it! Right now. Yes, you need to work, but don't forget to recharge. I'm begging you.
Recap
Don't allow other people to make you feel like crap for watching television.  You do you. Just do it in moderation and schedule time for it so you can enjoy it fully in the present moment.
And now I'm off to watch The Good Place on Hulu. Schitt's Creek on Netflix is another favorite of mine. What are your favorite tv shows or movies that bring you a little joy?
Did you find this useful? Don't keep it a secret. I would love it if you would share it with a friend, colleague or loved one. It is the biggest compliment you can give me.