Looking to get a higher paying job in four months to a year? It takes a butt load of work.  But it is possible. 

In fact, those four months I worked an insane amount of hours.  I had a full-time job and I studied remotely with my study buddy every single day. Yes – seven days a week.  Some days I studied for 14 hours. I'm going to tell you what I did and how you can apply it to just about any industry or goal you have.
Co-working remotely got me a higher paying job within 4 months
I'm not going to say the exact amount of income for privacy reasons.  I still work full time at a corporate job and I don't want my salary to be public. But I can say I increased my salary in the thousands annually and I get to work remotely from home.

It is important to note that I was able to do this because I did my research.

Found a niche in an industry that currently has a high demand for people with those skills and not enough people to fill them. These types of jobs are the easiest to get your foot in the door and make a career switch. Although easiest doesn't mean easy – you will still need to put a ton of work in.

Found an online class for the topic.

And went to work!  For me that niche is Salesforce Administration – it is kind of like IT for a company's Salesforce web application.  

Get a study buddy and add a new skillset.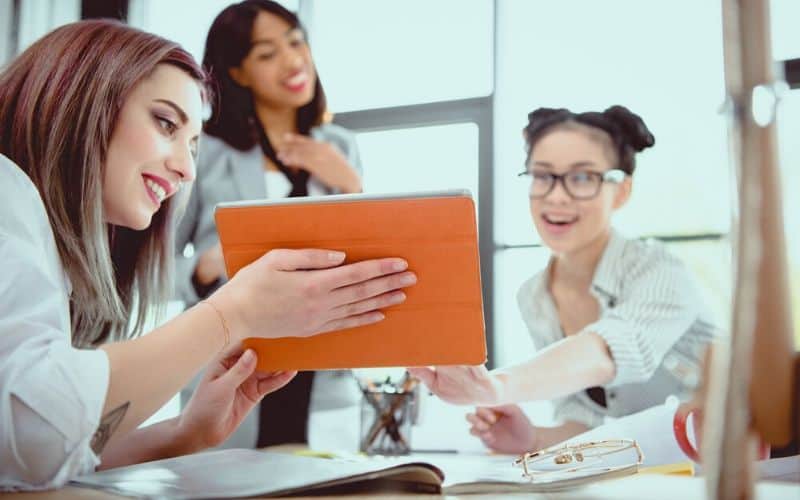 After failing my first certification exam twice, I got a co-working buddy. Within one month after that, I passed my exam and then got two more certifications within three months of working with my partner.

Just having someone, even a stranger, working with you through FB, FocusMate, or whatever video conferencing tool you want, makes you get more work done faster.  It is a sense of community without the pressure of judgment from a co-worker micromanaging you or working over your shoulder. It is a way to not feel alone while working. 

When you co-work with others working on similar goals you can help motivate each other when you are having a bad day. Plus building a skillset with someone else and celebrating each others wins is so much more fun than doing it by yourself.
Why do we stop group studying after college?
This isn't the first time I co-worked. When I discovered studying in groups my junior year at UCLA I ended up completing two years of college units in one and graduating an entire year early.  I wanted to see if I could re-create my crazy productive college experience and apply it to my job with people from all over the world using tools like Microsoft Teams, Facebook, or FocusMate – and it worked!

How to co-work remotely to get a higher paying job
Know your goal
Whether you are studying for a certification, have a project deadline at work, looking to change your career, or wanting to write a book, it is important to identify what you want. It makes your co-working sessions even more productive.
Where to find a coworking study buddy

Find people in Facebook groups you are in. My friend Rupali said her strategy to find a partner was to look for someone who posts in a mutual Facebook group that looks just as committed as you are to your goal. We were both taking an online class to pass a certification. She messaged me and asked if I wanted to study with her. I am so glad I said yes! We get so much work done together it is insane.

Set a schedule
With your co-work buddy decide what you are going to study or work on specifically each day. That way you can get a visual on if you have enough time to accomplish your goal in the time allotted.  This type of schedule with your partner is useful if you are both working towards the same goal.  This is also good practice if you are looking to get a remote job.

Here is an example of what your schedule could look like:
2-1-19 – Unit 1
2-3-19 – Unit 2
2-4-19 – Unit 3
2-5-19 – Practice Test

If you haven't found a partner that is as committed as you just yet, no worries. You can set your own schedule and then log into FocusMates to work with someone who wants to co-work at that very moment too. Usually you just briefly introduce yourself and say what you are going to be working on for the next "x" amount of time. And then you both get to work. Or you can announce in one of your Facebook groups that you are currently working and ask anyone who wants to co-work to join you at your Google Hangouts link.

Focus on ONE thing at a time

I can't stress this enough – this is key to reaching your goals and reaching them fast. I am not the one to come up with this idea by a long shot – I am the queen of juggling 20 projects at once while adding to my list of 1000+ new ideas. And the first time I buckled down and only focused on one thing it was sooooooooo hard for me at first.  I have ADHD and I get bored easily. But I pushed through and the quick results made focusing on one thing addictive.
Expect to interview a lot
Don't be discouraged by having to interview a lot before getting an offer – especially if you are breaking into a new industry. I totally get it, having bad interviews is the worst. It can be emotionally draining and embarrassing. But the best part is you now know what questions you are likely to get asked and can prepare a better answer for next time. Bad interviews are just practice for the better job around the corner – the one you really want.
In my industry, if you have a certain number of Salesforce certifications you get contacted at least three times a week from recruiters. Talk to ALL of them. Trust me when I say that interview practice is so important.
Recap
Whether you want a career change or a promotion, getting a higher paying job doesn't have to be complicated.  
Research what industries are in demand and what online classes are available for those industries.
Decide on what you want.

Find a goal mate.

Create a schedule with that mate.

Focus on one thing at a time. One certification at a time. One class at a time. One project at a time. Decide what sections you will study, what practice tests you will take, what work you will do for the month.
Once you have accomplished that thing – have a mini celebration and move onto the next. Before you know it, you'll be celebrating accepting an offer for a higher paying job.

Other articles you'll love…
How To Start New Habits Without Shame And Guilt
How To Run A Simple Accountability Partner Meeting
Be Willing To Bust Your Ass For What You Want
Did you find this useful? Don't keep it a secret. I would love it if you would share it with a friend, colleague or loved one. It is the biggest compliment you can give me.